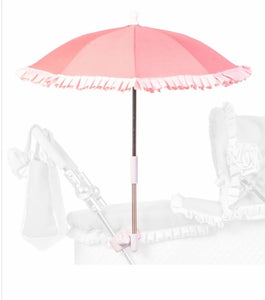 Designed to coordinate with the Roma Annie dolls pram. The parasol is perfectly matched in 2 tones of pink.
The adjustable clamp fits snuggly round the chassis bar at any height.
Please see separate listing for the alternative accessories including a rain cover and 2 piece bedding set
The accessories are an optional extra and are not included with the pram
* may be used on other dolls prams, please check measurements for suitability.
Dolls pram parasol