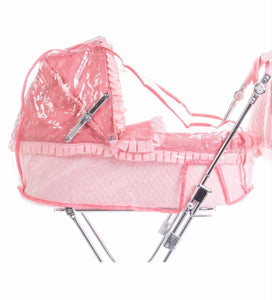 Roma Annie Dolls Pram Rain Cover - Designed to coordinate with the Roma Annie dolls pram. 
The clear PVC rain cover fits snugly over the body of the pram.
Please see separate listing for the alternative accessories including a parasol and 2 piece bedding set
The accessories are an optional extra and are not included with the pram
We also ship world-wide
* The Annie Rain Cover may be used on other dolls prams, please check measurements for suitability. 
What's included in the package? 
Dolls pram PVC rain cover